For visually challenged writers, the image shows an area of plants with a sign showing 5MPH.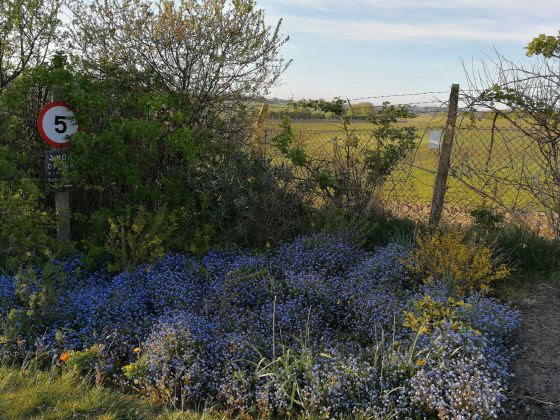 "This is the spot" Morgana said to herself, and rather pleasant rather pleasant it is too. The blue flowers, the old fence and trees hiding the five mile an hour road sign.
Looking at her phone she could see she only had a few minutes to wait. Running her hand down her green velvet robe with hand embroidered Gailic design on the bodice she smiled, she loved the thought of going way back in time to when magic and soucery reined supreme.
What could go wrong she smiled throwing her leather bag of herbs over shoulder, quickly checking the laces on her Doc Martin boots she looked out for the Anomaly.
Merlin was watching his screen, he could see Morgarna standing in the flowers waiting for the Anomaly.
"Are you okay Hun" , he asked , Morgarna, who turned and smiled at the screen, "are you seriously saying you care?" Merlin laughed "maybe baby" he replied.
Just then the Anomaly arrived.
Merlin watched Morgarna jump. Then he went to the kitchen to get himself a cup of coffee. …..
For visually challenged writers, the image shows some stones located in the grassland which is surrounded by hills.
---
"Oh! Wow I love it here " Morgarna and it is dusk. My favourite time of day" Delving into bag she pulled out her red velvet cloak and wrapped it around herself.
---
As it got darker Morgana sat by the stones and waited for them to talk to her. Feeling totally relaxed she watched the stars roll across the night sky. She was totally at one with the sky the earth and the stones.
It was around midnight when the stones began to speak.
"Morgarna we have missed you you are so rarely here."
"I know mother stone, it pains me to be far from you but you know it is my destiny to travel" Morgarna looked at the stones and smiled. "Why have you summoned me here mother " There was a silence as mother stone thought and then she spoke, "Someone from the future has travelled here and defied the the ancient laws by bringing things from another era here long before it's time. They are trying to corrupt my innocent people Morgarna, can you and Merlin help?"