Morgarna landed first by the river and loved the whole scene…while she could she took in her surroundings and pulled her cape around her against the morning chill.
John arrived hitting the ground running…
"Woa! What sort of sourcery is this" he whispered as he came to a stop just short of the water.
"Mine" replied Morgarna with a smile… Though I have to give Merlin some credit well quite a lot … well never mind "
John looked at Morgarna as she lit a cigarette and took a large drag on it.
"So this is where it all happened John are you brave enough to find out who murdered Annette, we will have to witness the whole scene are you up for this?"
John took a deep breath and agreed that yes he was ready for whatever might transpire.
---
They spent the day in the village Morgarna asking questions and sharing healing potion recipes with the women in the village and drinking in the tavern …
She had made John invisible so that he could watch and listen and hear any plans that concerned Annette being made.
At one point she summoned John to a copse outside the village and said …'This is not three hundred years ago John, this is more six hundred years back … Why did you lie to us ? Did you think I wouldn't notice? "
"Oh! no Morgana I didn't mean to lie I wasn't sure if you'd help me after all these times are dangerous for a sourceress. I knew you'd know as soon as you saw the village."..he looked a little sheepish …. something Morgarna noted.
---
Evening approached and Morgarna and John followed the line of the river. After half an hour they reached the spot and John suggested they hide in the bushes and wait. Dusk fell and Morgarna had a cigarette and a drink from her flask. John seemed rather agitated which Morgarna put down to nerves at having to watch his lover being slaughtered and by who!
Then along the same path Morgarna and John had walked earlier came the sound of voices.
To Morgarna's surprise she saw John and Annette walking towards them…
They were arguing , as they reached the back she watched in horror as John drew his sword and holding Annette down he cut her throat.
Wide eyed Morgarna span round to confront John. Who was right behind her but he was older and his black eyes held her gaze as they glinted with evil?
---
The last thing Morgarna saw before she lost consciousness was a younger and blooded John and the older version meld into one. She had a vague sense of being picked up and flung over a horse before complete darkness engulfed her.
---
Morgarna's eyes opened and she tried to focus in the damp and dark… She was wet and cold and she smelt really bad. As her eyes became accustomed to the dark she could make out that she was in a dungeon. Looking round Morgarna could see a couple of skeletons and a rotting corpse ….well she thought to herself this looks helpful..not.
She lit a cigarette and gave the matter some thought…where was she, well for a start she was three hundred years further back than Merlin thought she was….that was not good, neither was the fact that she was stuck in this stinking dungeon .
---
Merlin put his coffee down and looked at the readings from his new 'Entity Reader' he'd read it three times now and he was now certain that there was something truly amiss. "Gail , could you spare a minute I need a second opinion, as you come in could you just walk throy the new E.R. reader for me. "
"Yes on my way Merlin just let me get this Lasagné out of the oven and I will be there!"
Merlin rolled his eyes, what have we created he smiled to himself , Mary Berry move over.
Gail came in and walked through the E.R. machine, immediately the reading came up on his laptop. He compared it to the reading he had taken from John the night before and shook his head. "What's the problem Merlin you look confused" Gail asked looking concerned.
"It's John's reading Gail ….it's so different to yours that I really doubt that he is what he said he is .. No ghost would have a reading like his"
Gail looked at the readings and though she could see they were in no way similar she didn't really understand. " Honestly Merlin I don't understand this at all but my first impression of John was evil….. Then later I felt bewitched by him and after he left I was so relieved."
"Yes" Merlin replied, there is definitely something not right here and his signature is definitely a lot older than three hundred years as he told us. It's much more like six hundred?"
"Signature?" Asked Gail, "whatdoes that mean?"
"Well the new E.R. machine takes a reading from all entities that it scans, your signature Gail, is eighty years old, twenty years of life and sixty of death "
"Right " agreed Gail, "and John's?"
Merlin looked up , " Well it's over six hundred years and he has never died!"
Gail and Merlin looked at eachother , Merlin picked up the car keys …get your coat Gail we need to go back to the Cemetery where John or whatever decided to follow us!
As they left Gail called out as she grabbed her coat "Alexa turn everything off". Merlin waved his hand to make doubly sure be all was safe.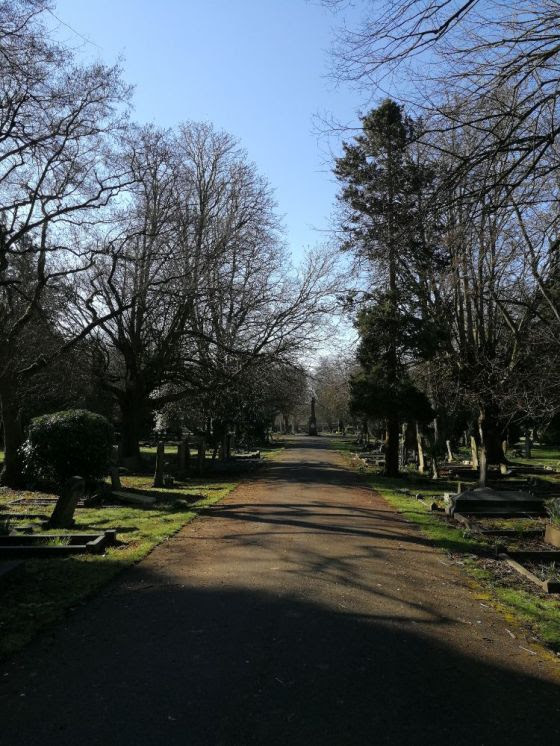 Merlin drove , he would never of admitted it but he was worried about Morgarna where was she and what was happening to her. An hour later they arrived back at the cemetery a path with graves and trees aligning each side of it. Right said Merlin you take the left and I will take the right …..if you meet any ghosts please question them we need to find out who this John is and where he is from.
---
Meanwhile Morgarna was cold dirty and actually quite scared….. She lit a cigarette and thought ….find me guys find me!