30 Jan 2023 7 Comments
by willowdot21 in #Haiku, #Senryu, #Haiga, #Tanka, #Tanka Prose, #micropoetry, #poetry, #5lines, #Haibun, #Prose, #CinquainPoetry, #Etheree, #Nonet, #Shadorma, #Gogyoka, Poems, Ronovanwrites Tags: Bubbles, Creek, Nature, water
It's effervescence
Filling tides, inlets and coves
Bubbling like Champagne.
30 Jan 2023 27 Comments
by willowdot21 in Doggy Tales, JusJoJan, Just jot it January, love Tags: Canine, LindaGHill, rescue
Linda is here again with our prompt for JuJoJan, here's what she sai: "Wow! It's our second-last daily prompt! Today is our thirtieth prompt for Just Jot it January 2023, and it's brought to us by Dawn. Much appreciated, Dawn! Please be sure to visit Dawn's blog to read her posts and say hello. And follow her while you're there, if you're not already.
Your prompt for JusJoJan January 30th 2023, is "canine." Use the word "canine" any way you'd like. Enjoy!
If you'd like to see what I have so far on your prompt list and what's to come, you can find it Here
Canine Colleague
Inch by inch they moved forward, attached by ropes around their waists. The ice was so cold they could feel it chilling their bones.
Carefully watching for any cracks that might appear in the ice, the man at the front of the line signaled for them to stop and listen.
They all did, hearing the ice groaning and over that the tired howling of exhaustion. They all knew what to do. Spread out, those at the front laid down and continued to inch ahead. Those further back held on tight to the ropes securing the men at the front.
They held those ropes tight they could not give an inch or they might slip and drown.
The howling was getting quieter now but no one could give up or relax their efforts. This was a valued member of their team who had saved many of them before.
The cry went up "Got her" slowly inch by inch they hauled her out. She was passed down the line across the frozen lake to the shore. As soon as she reached the bank she was wrapped up warmly in a moon blanket. And rushed off for medical treatment.
Later they visited her, luckily the Vet said she would be fine but this fabulous dog, part of their team had been within an inch of losing her life! Even so she was soon back working with them again.
30 Jan 2023 18 Comments
by willowdot21 in #writephoto, inspiration, loss, love, memories, Merlin, Morgarna and Morgause, photo prompt, photos, sadness Tags: Anomaly, Battleship, Ghosts, K.L.Caley, Time and space travel
Well last week Morgarna, Merlin and Gail met Lady Gwyneth we left the listening to her sad tale of loss. Carry on reading to see how or even if they can help ?
Merlin took the E.R. from his pocket and scanned the room. "There's not a lot we can do here Gail we can't change history it's done but we can help Gwyneth understand what happened and hopefully help her and her husband cope."
"Yes damage limitation, is our best shot" echoed Morgarna.
Gail opened her mouth to complain but stopped seeing Merlin's eyes.
Morgarna stood and said to Gwyneth "let's take a trip back to the rose garden and see what happened." Standing up she crossed to the arrowslit and Gail and Gwyneth followed her.
Merlin called up the anomaly and the three woman passed through the arrow slit and jumped.
---
As they landed the first thing they noticed was the heady scent of roses and the gentle sound of water from Gwyneth's favourite fountain. "Okay said Morgarna no one can see or hear us so we can just observe and not spook anyone"
Then Gwyneth saw herself over on the other side of the garden, picking roses and humming to herself.
"Look " said Gail softly, " there you are and you are not doing anything you should not. You had no idea that there was a little time bomb inside you. You are not to blame"
Gwyneth, her eyes full of tears, replied , " I just feel I should have known something was wrong ."
"How could you of ?" asked Morgarna touching Gwyneth on the arm.
Just then they saw Gwyneth fall to the ground. Her ladies in waiting gathered round her , there was nothing they could do, her life's blood was simply flowing out of her.
"Do something Morgarna, please do something I know you can" , cried Gail.
Morgarna shook her head I can't, I am sorry, if I change anything now I will only make things worse. I could save them today and then something nasty would happen the next day or the next week. But Gail there might be something you can do if you just watch"
---
The Ladies in waiting were flapping around Gwyneth none of them had any idea what to do. "Call for my husband " Gwyneth whispered, "He is away hunting my lady " was the reply.
Just then Gail saw a spirit emerging from the life's blood pooling around Gwyneth , without a thought Gail lunged forward and caught it, it was a tiny baby girl. The tiny soul looked up into Gail's eyes and smiled opening her eyes wide it was as if she was saying thank you.
Gail was delighted by the little dot and brought her over to meet her mother. Gently she handed the little girl to Gwyneth, the ghost who was so happy to be reunited with her baby .
---
While the three women were fussing and cooing over the baby, Morgarna had even stubbed her cigarette out so as not to breathe smoke all over the babe, the anomaly arrived . Morgarna checked her cigarette was out and picking up the stub she dropped it into her bag. "Mustn't contaminate the time continuem ladies" she smiled adding, " Oh! That's our cue to jump come on and hold that baby tight! " So linking arms and Gwyneth holding on tight to the baby they all jumped.
---
They landed with a thump in the dimly lit bed Chamber full of doctors apocatheries and other lords and scribes.
"I know where we are" said Gwyneth, "are were veiled they don't know we are here do they Morgarna?" She asked indicating all the men standing around.
"No we can't be seen or heard" Morgarna reassured her.
"This is my husband's Bed Chamber and he is dying, I have whittnessed this scene so many times….. It's so painful to watch he bemoans how losing me and the baby blotted his life….he never recovered and he died a young man…. I feel so guilty" Gwyneth's voice trailed off.
Morgarna looked sharply at her and said, " you can't hold yourself responsible for his actions, we can't change any of that now but we can sort out the three of you spirits in the ever after and give you all some peace. That's what we are here for."
Turning to Gail she added " here's where you come in again sweetie"
Gail watched the scene as the man in the bed rambled on and the medics and scribes bumbled around. Then all of a sudden Gwen's husband looked straight at her and the baby and smiled. "This is different " whispered Gwyneth "he's never seen me before" smiling she reached out her hand to him.
At that moment he breathed his last and closed his eyes and died. "No" screamed Gywneth ,"This is awful I feel like I have lost him all over again" and she desolved into tears.
Gail was concentrating on the dying man, she knew what she had to do this time and she was ready.
While Morgarna consoled Gwyneth Gail saw the spirit of the man leaving the bed heading for the light, quick as a flash she caught his arm and pulled him back and spun him round to face his wife and baby. They all embraced and there were many tears of joy.
Morgarna intervened "Come on guys there's no time for that you three all need to follow that light! Now!" With a shove she sent them on their way, a happy couple and their baby went towards the light and disappeared. They all turned and waved with gratitude in their eyes as they passed through, Gail went to follow but just as she got to the light Morgarna grabbed her …"Not yet young lady it's not your time "
Gail felt strangely empty and lost but then she felt Morgarna's warmth seeping into her she relaxed and let go!
---
Merlin was sitting on the lawn on the approach to the castle when he got a message from Morgarna on the *T.A.S.C.C. App. on his mobile. It read: 'mission completed I need a cigarette and a drink ! '
* Time and Space Continuem Commutation App.
---
They landed, Gail and Morgarna, next to Merlin who had organised a table and ordered some food and drinks.
"My dears, a Bacardi and Coke for you Morgs and a Cabernet Sauvignon for you Gail, how did it go are they all resettled and reunited now?"
"Yes indeed " Morgarna replied lighting a cigarette, "all thanks to Gail we are all sorted here. " Then seemingly smoking her cigarette she spoke to Merlin telepathically "Gail was a little unsettled by it all and I nearly lost her to the light! "
Merlin raised an eyebrow and then said well ladies let's eat drink and be merry for Lady Gwyneth and her family"……and so they did.
---
Later that evening Gail and Merlin jumped through the anomaly back to the house while Morgarna was sent off on another trip.
---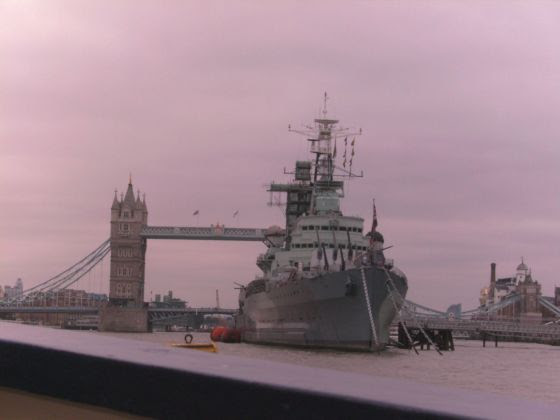 Morgarna landed with a thump on the deck of a huge battleship that has just travelled through Tower Bridge in London…. There were a couple of good looking naval ratings finishing some work before their supper who were mightily surprised by her entry… Morgarna smiled and practically purred "Well hello sailors!"