Last week we left Morgarna and Gail in a rather tight spot trying to deal with a giant chess set processed by a polagiest we need to get back and see what's happening!
Oops I am late again …it's all Morgarna's fault but better late than ever!
This week's episode comes with a warning the story contains a line on drugs and susicde.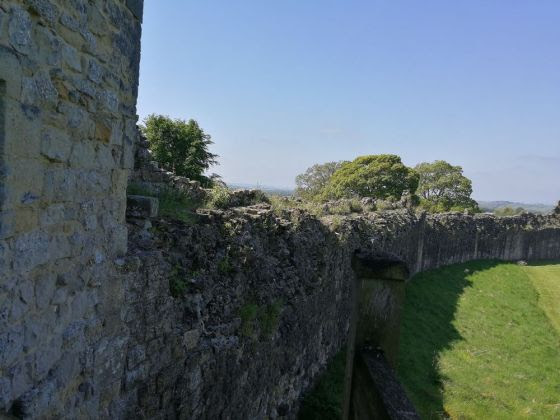 For visually challenged writers, the image shows a crumbling stone curtain wall stretching as far as the edge of the photo.
---
As they entered the chapel Gail shivered.. "what was that" she asked looking at Morgarna who laughed and said "honestly your asking me? …. Merlin built a tad more into your bracelet than he has already told you. We didn't actually expect you to travel just yet… But, hey you'll cope !" Morgarna paused to stubb out her cigarette and then continued, "you have now got sensory feelings, you can be seen and you can eat, drink and sleep where ever you are "
"You mean not just in the house like before…"
"yes" smiled Morgarna" it might take a little getting used to but you'll be fine"
Morgarna reached into her bag and pulled out a file flicking through quickly she said to Gail ….. "We are here to stop a suicide…. Oh!… Gail I am sorry … You were a suicide …"
Gail's eyes filled with tears .."yes I was and I really regret it I missed so much…. Do you think I can help? "
"Yes indeed I do who better than someone who has been there and done that "
The sourceress and the ghost walk up the short aisle, Gail shivered again "what's the problem " Morgarna asked . " I don't know " Gail replied " it's years since I have been in a Church and it's all so strange being free to travel and have feelings …just not used to it I suppose".
---
Morgarna was sitting on the wall across from the chapel , as she looked around her she recognised it a curtain wall, and she smiled at the fact that the chapel was outside the wall which would of put it outside the castle that would of once stood here. Obviously a castle of my time when my powers were thought more of then the new Christianity? My days do I miss them? ….
As Morgarna sat in the early evening having a cigarette and crafty Bacardi and coke from her flask she heard a car pull up on the road near by. Looking across she saw it was a classic Ford Anglia, obviously a loved old car taken out on high days and holidays. A man got out and crossed the field, slowly, towards her. He saw Margarna who waved and smiled. He came and sat next to her.
Morgarna looked at him, he was in his early eighties she guessed and was obviously a handsome man in his time… though he had an air of sadness about him … she also felt this person had, had a full life.
"Hello young lady what are you doing here on your own"
Morgana smiled, laughing inside that this mere mortal thought she was a young lady….she was neither. " Hi, I am not on my own, my friend is in the chapel I just came out to have a cigarette and a drink and watch the sunset"
"I am heading into the chapel right now would you care to join me" he asked.
"I would indeed" she replied jumping up. " I am Morgarna and you are? "
A slight twinkle touched the man's eyes and he smiled , "Well lady Morgarna you have made me smile for the first time in a while, may I introduce myself my name is Dave . Can I take your arm I left my walking stick in the car… I don't think I will be needing it again!"
Morgarna and Dave left the wall and went into the chapel together.
---
---
Entering the chapel for a second time that day Morgarna was surprised to see that Gail had found Candles and had placed them around the chapel giving the place a cosy aura.
"Gail I met someone outside, come and say hi "
Gail appeared from a small cupboard looking a little dusty but smiling, " I love it here it's so calming once you get used to the quiet…no traffic.." She stopped dead and blinked. "Dave!"
David looked at Gail and went as white as a sheet, Morgarna grabbed his arm and got him to a pew before he fell.
---
"Do you two know each other?" Morgana asked as she waved her hand behind her back producing a tray of three mugs of strong sweet tea and some sandwiches! Dave was too distracted to wonder where they had come from and gratefully accepted a steaming mug.
Gail was the first to answer … "This is Dave my boyfriend, well he was ..he was my life" David reached out and touched Gail's arm then jumped back shocked to find she was actually there! He then spoke, "Gail how can it really be you I saw you last in the police mortuary? It can't be you! Is this a cruel trick….what's going on and today of all days ….no! " Morgarna could tell David was really stressed out by all this. Again she waived her hand and he stopped speaking and started breathing.
Gail looked shocked, "You came to see me at the mortuary…"
"Yes the police asked me to identify you, you had my name and phone number in your locket.
Gail touched her neck, "my locket I really miss that , you gave it to me on my seventh birthday, I kept your name and phone number in there all the time…even after you left me. " She reached out and touched his face … "Have you lived well Dave? Did you forget me quickly"
Morgarna slowly walked down the aisle and out of the chapel leaving Gail and David to talk.
---
Morgarna felt drawn to the curtain wall each step closer to it she took she could feel history and ghosts of the past. She climbed up to the top of curtain wall and to her delight she saw life as she remembered it, the servents, the folk who lived within the castle walls, the traders, hawkers, blacksmiths the animals…the mud the dirt the smell…she loved it. Just then she heard voices as two soldiers from the watch came up to her, "Lady Morgarna what are you doing up here is there anything amiss?"
Morgarna smiled at them both, " No nothing wrong, I was just enjoying being home and the sights, sounds and smells of my world… I miss them so much! "
The two soldiers exchanged glances .."but you haven't missed them you've not been away."
Morgarna sighted …no not yet ..not yet"
"Well mi'lady if all is well we are just off for supper "
'Off you go lads I'll keep watch for you I love the night air up here. " Morgana spent an hour watching the surrounding countryside from her vantage point, listening to the sounds of her beloved castle gently slowing down for the night …all was gentle …all was well … perhaps she could stay a while.
Just then she saw three horse riders approaching ….it was herself, Merlin and Morgause and as ever they were laughing and bickering . Time for me to go she supposed…. She spent a few more moments watching herself and her loved ones , in simpler times …harder, dirtier but simpler , then she jumped from the wall and landed back in 2023 opposite the chapel.
---
In the chapel Gail and and David were still talking, though now they were actually relaxed in each others company. As Morgarna came in David beckoned her over… "Come lady Morgarna …. according to Gail you really are a lady and much, much more….come and sit with us and we'll tell you what's been happening while you disappeared! "
Morgarna joined them and lit a cigarette, she offered them to Gail …Dave refused he'd give up years ago.
Gail picked up the story. "I met Dave when I was sixteen, we were so in love… He gave me a beautiful locket for my seventeenth birthday. Dave was in a group and I went everywhere with them , I was one of the crew I made all their stage gear…"
"She was handy with a needle in those days a great seamstress …but that was before." David went quiet and his eyes went dark.
Gail took a deep breath then continued. " I was really happy my parents were not best pleasd because I dropped out of school and left home. Anyway we toured all over and even went to the US, Canada, Japan , Australia and New Zealand. It was fun and we had the best four years of our lives…." David looked sad " until we didn't " he said .
Gail's eyes filled with tears , David wiped one away…" I can't believe this, real tears"
" Yes real tears I ruined my life and affected everyone else's through my stupidity. See it was hard work traveling, sewing, hotels, gigs, festivals and then the partying …I partied hard , one night one of the roadies gave me a little something to keep me going…… Soon I couldn't do without it …. eventually Dave noticed , the whole grouped noticed I was useless…
Dave did his best but I was stubborn, he sent me off to rehab but I just wouldn't try… I ran away time and time again…. Eventually I ended up on the streets , real riches to rags. Then I died one night in a filthy squat, I had, had enough I took as much stuff as I could find lying around the squat and drank all the alcohol I could find. I was found a few days later laying in my own vomit a perfect meal for the rats. " Gail looked so sad that Morgarna reached out and touched her .
David took up the story. " She was a real mess, heart breaking, they found her locket around her neck and my name and number. I was in Scotland with the group at the time so I caught the night sleeper down to identify her… .. I never forgot how she looked … Thank goodness I have seen you now as you are. "
Morgarna asked "why are you here David, why today."
David looked at Gail, "My beautiful wife died this day last year which just happens to be the day all those years ago that I had to identify Gail It just got too much for me I decided to come here and take some pills then lock myself in my beloved old car and slip away. "
"Surely you're leaving family behind" said Morgarna.
"Yes three sons, and two daughters and plenty of grandchildren but I just can't sleep the nightmare of seeing Gail in that state l all gaunt and rat eaten , they returned after May died. I just want peace.
Gail looked so shocked, "You can't do that Dave , you be leaving a bad lasting image to your child that's so wrong Dave"
"Your right Gail I have changed my mind I shall be strong and carry on."
Gail hugged him , "I do love you Dave and I am so glad you recovered from my suicide and had a good life. "
Just then there was a commotion at the doorway… "Granddad where have you been we've been worried sick , we saw you old car was gone from the garage and you've been gone for 24hrs… "
Dave spun round ,"Ryan how did you find me.."
" Guessed you'd be here this was Grandma's favourite place, I saw your car from the road and boy what a relief your safe and okay. " With that Ryan threw his arms around Dave.
"Thank God you're okay Granddad I thought you'd done something stupid."
Then he noticed Morgarna , Gail had pressed the button on her bracelet and disappeared. "Oh! Who are you?" Ryan asked.
David smiled and replied "this is Morgarna she has been taken good care of me"
---
Later Morgana waved Ryan and his granddad off in the old but immaculate Ford Anglia, followed by Ryan's girlfriend driving her Ford Fiesta, which Ryan had arrived in!
As they drove off Morgarna waved goodbye and a huge weight lifted off of David's shoulders, he forgot the nightmares he'd been having remembering only good memories of Gail and happy days with May.
"You can show yourself now Gail they've gone. I have eased his mind and he will think meeting you was just a dream. "
Gail smiled thank you Morgarna I feel so much better too . Look" she said reappearing and holding out her hand , "Dave has given me back my locket isn't it beautiful. "
"Yes indeed it is let me help you put it on" replied Morgarna. " Did you get to say a proper goodbye to David"
Gail smiled again… "I did and he told me that when he dies he and May will visit to see if I am ready to cross!"….?
Right said Morgarna do fancy a quick visit to an Arthurian Castle? Come on last one to the wall buys the meade for the night .