Hello  everyone  I  thought  I  would catch  you  all again  as  you  arrive. I was  thinking  as  the  weather  is  improving  we  could  start  sitting out in the  garden ! I  think it  is  looking  good  have  a  look  for  yourselves   and  then  we can  decide  if  we are  ready  to  move out  there!
Well what  do  you  think  shall  we  chance  it  we  can  bring out  the  heaters  we used  in  the Autumn  if  anyone  is  used  to higher  temperatures. Now  as  always  we have  tea  and coffee  from all over  the world not to mention all our cakes  and muffins  and  as Paul  calls  them sweets! Every single  one  is  calorie  free! Plus of course  we now have spirits  and liquors  to warm the coldest of  you.
If we were having  Coffee: I would ask  you what  has been going on in your world this week, has  anything  deeply affected  you, have  you need a sympathetic ear, a shoulder to cry  on or  just  needed someone  to make  you laugh! If  yes  feel free to talk it out  here  with us. We will all help if  we can.
If we were having Coffee: I would  remind  you  that  there  are lots of  other  coffee mornings  all shared  and organized  By  Diana  and  Gene'O  over at,Part time monster  
Well, I  am exhausted  physically  and mentally  today  so  I  am going to  sit  here  and  pour  you all a drink   do  help  yourselves  to  any  cake or  biscuit , remember  as I  have already  said  all are  calorie  free.
If  we  were having  Coffee: I  would  tell  you  that  it  has  been  a very  hectic  week on  the  home front! Monday  evening  our  eldest  son  came  to  stay  as  he  had  been  invited  to  give  a small lecture  on  a  new  type of  working practice,  that  the  firm he  works  for uses, at anther  firm . We live  slap  in the middle  of his  journey  and  so  he stayed  the night  with us and polish his  presentation. Apparently  all went  well  though  the  small casual group  around  the table  turned out  to be  a room full of  top  bosses! he  did  well. He  dropped  in  for coffee  on his way  back  to  work  and gave us  a debrief!
If  we  were having  Coffee: Thursday  was  a lovely  day  weather wise and  company  wise  too. My gym buddie  and I  went  to Milford  to  meet  a dear  friend  who  had  moved  near  to the  sea  about  7yrs  ago  but  we  still keep in  touch , phone  email  and  regularly  meet  up  for  lunch. Above   are  some  views  of  the  garden center  we  visited  absolutely  stunning I  am afraid   my  camera  does  not do  it  justice. We all had a lovely  day  and  though the driving  did  leave  me  worn  out ( I had  forgotten  to take  my  morning tablets  and had  none  with  me) I really  had a  great  day. After  an early  night  and a does  of  pills  I  was back up  and running  ( so  to  speak) on Friday!)
 If we were having  Coffee:  Now it is  time to  bore  you  all  with  the garden veg  report . Now  I  misled  Tangental   we are  growing  beans   and I have  the photos  to  prove it! The Husband  had  planted  some  and  not  told  me  so I was  surprised  to  see  them  growing up!! So  far I  can  still  report  things  are  growing  well!  Do  visit  Tangental's  Blog  it  just wonderful!
 If we were having  Coffee: Were  are  my  manners  would  you like  another  cuppa  or  some  cakes  they  are  also  temping  we even have  some  Danish pastries  and  croissants today.
On  the  world  News  front  If  we were having  coffee:  I  would  say  How  delighted  I  am  about  the  Irish referendum results! Gay  Marriage  is  now  legal  in Ireland ( well southern Ireland  that  is, Northern  Ireland  being  slightly  different  because  it is  part  of  the UK)  It is  funny  when they  do  the weather  for the  UK  the  shows  England, Scotland , Wales  and Ireland   but  the weather is only  the Northern Ireland  patch ..Southern Ireland obviously  has  no weather? 😉
Now  isn't  that  a  conundrum? And  what  does  Northern Ireland  think  about  all this  well….. I  am not  going  to go  into  this  here  but I   have  here  a link  from the Guardian  which  you  can peruse! read  here  and  draw  your  own conclusions.
I  am personally  delighted  live  and live  and let  live and give  everyone  a chance  to be themselves .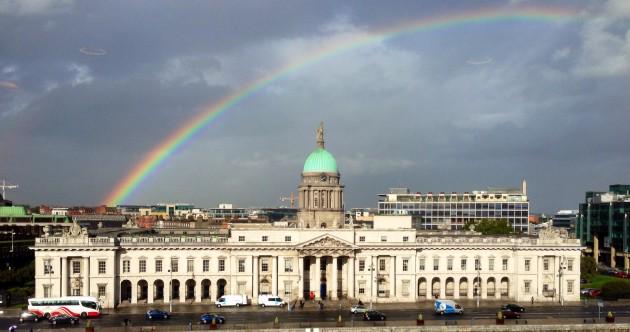 How  wonderfully  fitting there  were Rainbows  over  Dublin  and Cork  as  the  the  results  came in …. A  sign  from  God  I  think  waving the  Rainbow  flag!!
If  we were having Coffee: I would  have to  admit  that  I  did not watch  the Eurovision  Song  Contest  ( I  was actually  too busy  watching  Person of Interest , we have been watching  season  1,2  & 3  and  found it  amazing, we are   totally  hooked!!) Sorry I  digress we  have  watched the  Eurovison  in  in the past  but it has  turned into a joke  now . First  Terry  Wogan  had  us  all stitches   with his cutting  and humourus   comments  and  commentary  and now Graham Norton  is  filling his  shoes ..well!  Sadly  the UK  are  never  liked much in Europe  and  too much  of  the voting  is political . I  am glad  we  don't  win  because  I  think  this  country  has  better  things  to spend  vast  amounts of  money on…. ie Health  service  education , benefit  fraud, immigration …I  need  not  go on !  Any who  !! here is our  entry.
we  came in the bottom end of  votes but it's  not  a bad  Euro  entry.
And  the  winner  Sweden  …Well done  Sweden , nice  visual effects ! Good  Eurovision song .
Oh ! and Australia  joined in  for  the first  time….. How  does  that  work  Australia ..in Europe? As  much  as  we all love  you guys  there is  no way  you are European! here is  their  entry.   Another  good  Euro  song.
Well  as  you can see I  am very  tongue in  cheek about  the Contest  come  back  Wogan  do a  double  act  with Graham  Norton  then I  might  watch!!
If  we were having Coffee:  I  would say  lets  finish on that light note! Lets  go  and find  Paul's  guests  some of  them are out here in the garden  and  some  are  in the house . Have  a  great  week  and don't  forget  Paul is  guest  posting  all over  the place  track him down  and enjoy  his magic! Cordeliasmomstill       has  a link of  all his  post  here  Check  Codeliasmomstill  blog out  too  it is so much fun  !! Okay  love  to you  all  and  see  you  all next  week I  hope !!
And of course  the