Welcome one, Welcome all.
If  we  were having  Coffee  :  time  again to ask how  are  you all are   and  what  have  you been up  to this  week!  Come in it is lovely  to see you all here again. The fires are lit and  the cushions are plumped up and  we have  the coffee and tea on  the go  and the cakes and sweets are all set out.  We  have  tea  and coffee  from all over  the world not to mention all our cakes  and muffins  and  as Paul  calls  them sweets! Every single  one  is  calorie  free! Plus of course  we now have spirits  and liquors  to warm the coldest of  you.
If we were having  Coffee: I would ask  you what  has been going on in your world this week, has  anything  deeply affected  you, have  you need a sympathetic ear, a shoulder to cry  on or  just  needed someone  to make  you laugh! If  yes  feel free to talk it out  here  with us. We will all help if  we can.
If we were having Coffee: I would  remind  you  that  there  are lots of  other  coffee mornings  all shared  and organized  By  Diana  and  Gene'O  over at,Part time monster  
If  we  were having  Coffee  : Yesterday was  a  long  but  happy  day, it  was  my  hubby's birthday and  our eldest  son  organised a special  family  lunch, out in  the  country  down  in  his part  of  the  world. It  was extra  special  because   all three  boys  were  able  to attend   as  was  the husband's  mother. The  Newbie  and  his  Mum  did  not  come  but it  would  of  been  a lot of  travelling   and a  long  day  for  the  Newbie.  We all met  up on  a pub  on  the South Downs  an  had  a lovely  meal. It  was  a delight  to have  all my   four men in  one  place at  the  same  time!
If  we  were having  Coffee  : Now  there  was  something  else  that  happened  yesterday on  Hubby's  birthday  …what  was it ??? OH!  yes  ! William  and Kate  have  taken delivery  of  their  second  baby! Right  Kate  job  done  an Heir  and  a Spare! Parliament made  sure  when  George  was on  his  way  that  he  been a  girl  he  would  still  be  able  to  become  Monarch in  line. So  as  with  most  things  it is  one in  one out   and  Princess Eugenie    will  be toppled  of  her perch  at 7th  in line  to  the  throne… I  wonder  if  the  fact  that  she  no  longer  has  to  ask  the  Queen  permission  to  marry  will affect  her.
Well  the  Cambridge's went  home  from  the  Lindo  Wing  of  St Mary's  Hospital  Paddington  hours  after  the  birth. I  had  to  smile  when  a  TV  newsman  wondered  how  they  would  cope  their  first  night  home  having  to  look  after  two  babies  under  three? Well I  can assure  you  that  they  would of  had  plenty  of  help  with  royal  aides,Nannies, Nurses  and a  Dr  on  hand. Not  like  when  us  mere  mortals  go  home  from hospital,  with  no help,  apart  from a  as scared  as you  husband ,  and  in our  case  two  children  under  two years. In fact  we left  it eight years until  we had  any  more  children .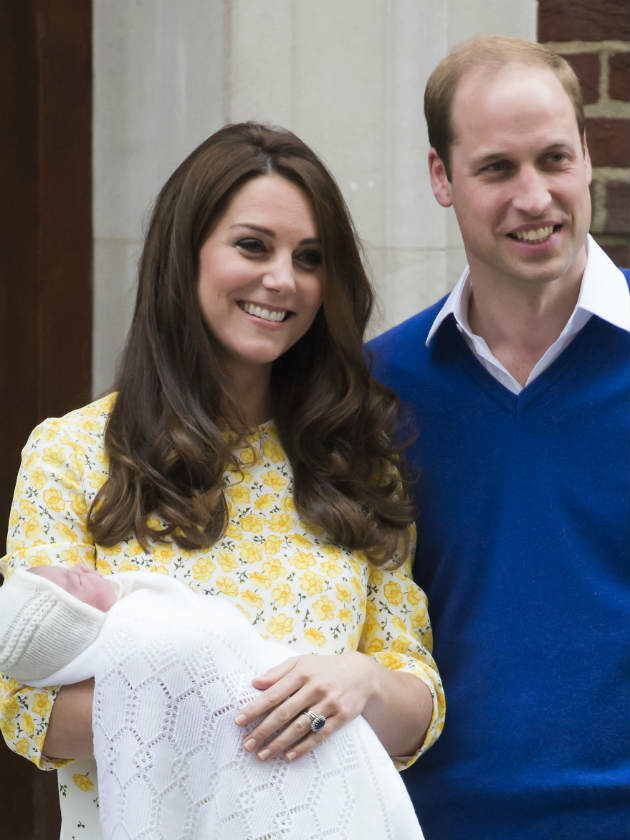 Wooho,  high  heels , new  dress  full  make up  and  hair  freshly  done…. we  all looked  like  that after  we had  just  had  babies..well no  we  did not  but  we don't   have a battery  of  stylists  and hairdressers.  Seriously   Kate  way  to  go.
If  we  were having coffee: I  say  good luck  for the  Paul  we hope  t all goes  well and  that  you  will soon  be warm , comfy  and cosy  in you new  DRY  flat. We all hope your new  apartment  will  suit  you  well Paul.
If  we  were having coffee: On  a  personal  not  I  delighted  to  say  that  I  did  complete  the  A to Z April Challenge   by  writing  a Nonet  a  day for  the  entire  month  excepting  Sundays  when  we were  allow a day off! I  was not  brave  enough  to  sign  up   but  I  was allowed  to use  the  logo,  which I  wore  with  pride. Even though I  called  my  posts  Not  The  A  to  Z Challenge, I did  them every  day  and  I met  many  brilliant  bloggers  and  read  some  amazing  posts! I  shall  be braver  next  year  and  sign  up   and  do it legitimately!
So  many  fabulous  blogs  too  many  to  mention!
If  we  were  having  coffee  : I  would  ask if you  could  do  with a  refill and  a cake. I  must  close  now  so  lets  go  and join  Paul  and  all his  guests they  are all enjoying  themselves  by  the fire!